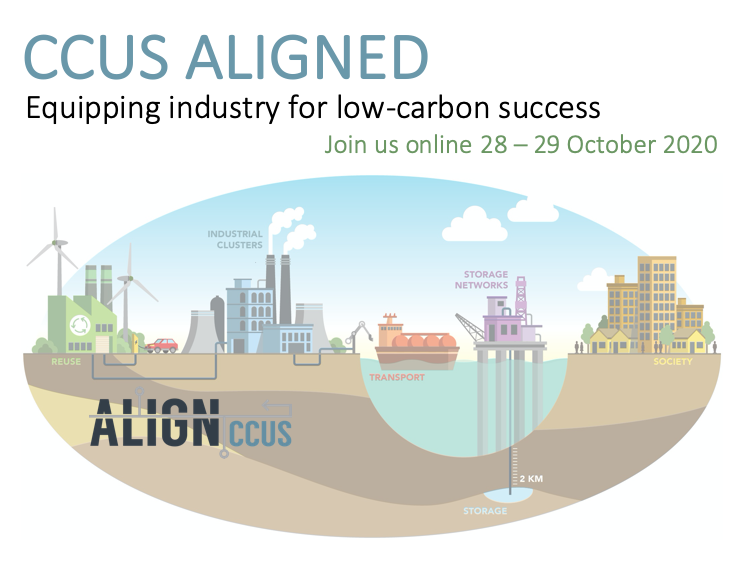 Climate action is an imperative but can we achieve low-carbon success within existing structures of society? Experts from science and industry have worked together on the ALIGN-CCUS project to identify realistic routes to decarbonising industrial nations. By focusing on technical and societal opportunities, we have outlined a holistic approach to the challenges faced by different regions in Europe.
This online knowledge sharing event featured two half-day morning sessions. Follow the work package icons below for project outputs, recordings of event presentations and infographics.
Day One was aimed at non-technical stakeholders, regional authorities, policymakers, regulators, industry, NGOs, the media and investors. Day Two was suited to industry, project developers, the research community, policymakers, investors and supply chain businesses.
DAY ONE 10.00-13.00 CET
Speaker biographies
Chair: Peter van Os, Project Coordinator, TNO
Welcome and ALIGN-CCUS overview, Peter van Os, Project Coordinator, TNO
ALIGN-CCUS and the ERA-NET ACT programme, Ragnhild Rønneberg, ACT Programme Coordinator, & Gerdi Breembroek, ACT Netherlands
Developing full-chain CCUS for European industry, Lydia Rycroft, WP5 Lead, TNO (The Netherlands)
Measuring & building support for CCUS, Emma ter Mors, WP6 Lead, Leiden University (The Netherlands)
Identifying CO2 storage capacity & infrastructure, Maxine Akhurst, WP3 Lead, British Geological Survey (UK)
Flexible & affordable carbon capture for industry clusters, Hanne Kvamsdal, WP1 Lead, SINTEF (Norway)
Cost-effective and reliable CO2 transport and injection, Hans Aksel Haugen, WP2 Lead, SINTEF (Norway)
An energy revolution: synthetic fuels from CO2, Peter Moser, WP4 Lead, RWE (Germany)
Sharing knowledge & the value of dissemination, Peter van Os, TNO & Indira Mann, SCCS (UK)
Panel Q&A
DAY TWO 10.00-13.00 CET
Meet the Experts biographies
Chair: Peter van Os, TNO
Welcome and overview, Peter van Os, Project Coordinator, TNO
Meet the Experts – an open discussion with ALIGN-CCUS scientists (25 mins per theme)
          Flexible & affordable carbon capture for industry clusters (WP1)
          Cost-effective and reliable CO2 transport and injection (WP2)
          Identifying CO2 storage capacity & infrastructure (WP3)
          An energy revolution: synthetic fuels from CO2 (WP4)
          Developing full-chain CCUS for European industry (WP5)
          Measuring & building support for CCUS (WP6)
Closing remarks – Peter van Os, TNO